Aug 3, 2023 01:44 PM Central
Katrina Kunstleben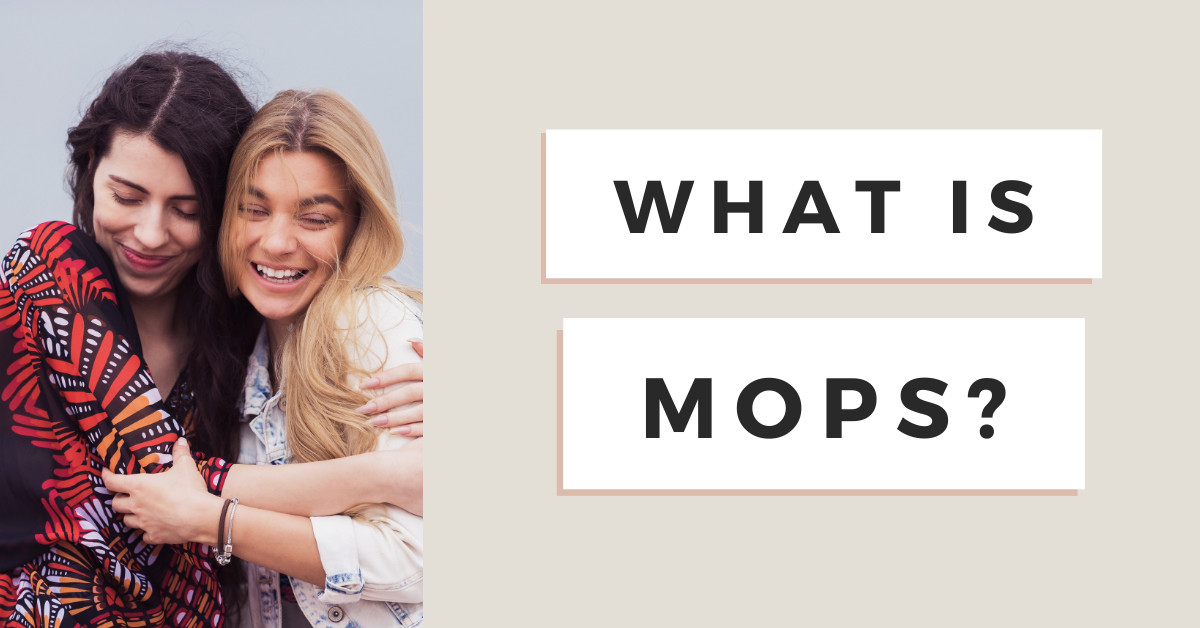 If you're like me, you have maybe heard about "Mops" or seen it posted about but have no idea what the heck it is. Are we cleaning? Do I need a bucket? Seriously. I was so confused as to what MOPS stood for or what the heck it was.
A friend of mine kept telling me that I should find a mops group in my area but in full disclosure, I was pretty sure that I didn't 'need' or want to be part of a "moms group". I was SURE that I knew what those were like and that I wanted no part of one. I had no idea how wrong I was.
I finally searched for and found a group near me. I joined their Facebook group but STILL didn't brave a meeting for another whole year! I told you...I was sure I knew what they were about. Ha. I also found out that it stood for Mothers of Preschoolers and all I thought was, "I don't have a preschooler right now," my son was older, my oldest daughter wasn't old enough yet and I was still pregnant with my youngest. Why the heck would I be interested? I finally decided to give it a shot and it turned out to be such a wonderful experience that I am going on my 6th year of joining MOPS + MOMSNext of Avon.
MOPS
is a national organization where local community churches host their own meetings following the themes set by
MOPS International
. Each group has their own leadership and way of doing things but they are all tied together with the same principles. They often meet at a church but you do not have to be a member of that church to attend. My MOPS group has many moms that are do not belong to a church that join that do not attend church regularly. All moms are welcome regardless of where they are at in their faith.
To really captivate what MOPS meetings do for moms, one mom decided to ask moms that were attending to get their own personal expression of "What is MOPS to YOU?"
"A way to connect with other moms in my stage of life!" Rene Griffin
"MOPS has given me more confidence as a mother, and as a leader." Katy Leach
"Mops is something God uses to encourage me in this mothering season!" Angelica Cobb
"A group of likeminded moms; it reminds me I am normal and not alone in this beautiful mess called motherhood!" Grace Young
"MOPS has given me the opportunity to watch over the most amazing little God's children. As a kid care worker." Cathy Doty
"MOPS has given me lifelong friends, the opportunity to grow as a leader, and reminds me that I should give myself lots of grace during this season of mothering." Brittany Jones
"I started going to mops to be able to see my friends more often, but I got so much more. The first year it was about survival, having a place where my kids would be cared for while I got time to be a person and not just a mom. I found the content to be inspiring and very helpful. One day in that first year I walked in feeling completely stressed and on the verge of tears, another mom gave me the best hug and told me it was ok. The second year, I was happy to return, got to be a table leader and made 4 new amazing friends. Now I'm in my third year, officially on the hospitality team and a table leader. I love mops, for the friendships I've made, but even more for allowing me to look inside and find a faith I get to explore and expand." Jayne Crosby
This last share was from her table leader last year, she was truly a blessing in her life as there were many times when she was going to not go to the meeting simply because she felt like she had to get so much done, groceries, laundry, business stuff and so forth. When she would reach out to her and mention that she may not be at the meeting this month, somehow she just knew that she had to be my encouragement to get there. When she made it, she felt so grateful for her motivation.
I've been there many times!

What mom can't relate to that?!
Still not sure? Check out this video that our local MOPS mamas put together, sharing how MOPS has impacted their mothering, their relationships...their lives.
To find a MOPS near you –

click here

!