Mar 12, 2021 02:10 PM Central
Katrina Kunstleben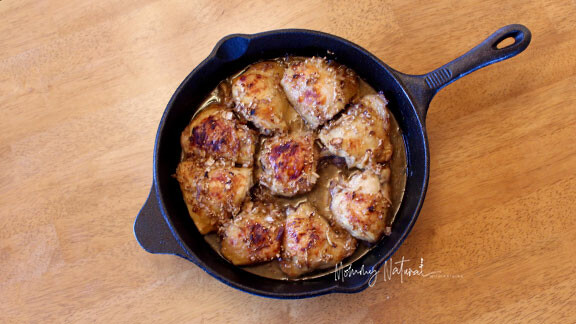 This easy 4 step ginger-garlic chicken is a staple in our home. It is often requested by my husband. Staple recipes have three requirements: quick, easy and healthy. This definitely meets all 3!
I've been on a wellness journey for the past couple of years. I've been working on changing habits. My biggest challenge has been my sugar addiction. It's no joke when people talk about sugar being more addictive than cocaine. One of my favorite cookbooks that I've come across in my journey is The 21 Day Sugar Detox by Diane Sanfilippo. Her recipes are amazing and contain no sugar. My whole family approves!
When we are good about intentionally eliminating sugar (It's still a big challenge for me) we notice SO many benefits. I have more energy. I'm more alert. The brain fog clears. And yes, I drop a few pounds! I still have triggers than send me back to my old ways, but slowly and surely I'm learning how to stay on track for longer periods of time and when I do fall off the wagon, I'm much quicker to hop back on. That is progress that I'm good with for now.
Easy 4 Step Ginger-Garlic Chicken
This recipe is adapted from The 21 Day Sugar Detox. I simplified it a bit further and feel like it tastes just as good but saves me even more time as a busy mom with 3 littles.
Ingredients:
1 Tbsp butter, ghee or coconut oil
6-8 bone-in, skin-on chicken thighs or breasts (we prefer thighs)
sea salt and black pepper to taste
1 small onion, finely chopped
2 cloves garlic, minced or 2 tsp garlic powder
1 teaspoon ginger powder
2 teaspoons while sesame seeds
1/4 teaspoon red chili flakes, or to taste (I sprinkle these on last, and only on half of the chicken as they are too hot for my kiddos)
1/3 cup coconut aminos (I like this one)
Instructions:
Preheat the oven to 425 degrees F.
Using butter, ghee or coconut oil, grease the bottom of a 9×13 glass dish or large cast iron skillet.
Place 6-8 chicken thighs in pan (not overlapping if you can). I've used both frozen or thawed, either is fine but you'll have to adjust your cooking time accordingly. I've found they take a good 30-45 minutes longer when frozen.
Combine onion, garlic, ginger, salt, pepper, sesame seeds, coconut aminos and red pepper flakes (unless you choose to only add to half of recipe as I do) in a small bowl. Pour mixture evenly over chicken thighs and bake for 30 minutes (if thawed) or until internal temperature of the chicken reaches 165 degrees F.
If you try it, I'd love to hear what you think!